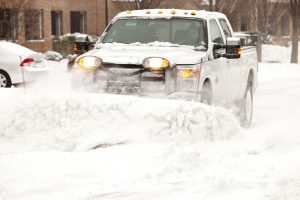 Out of all the snow plow companies in Chicago, you can trust that there is no better one than Snow Pushers. In Chicago, when the winter season starts to roll in, residents will often fret over the immense amount of snow they'll have to remove from their property's grounds. And the pressure often weighs squarely on their shoulders considering that Chicago laws call for the removal of snow from certain facets of a venue. But don't worry, by living in Chicago, you have the convenience of Snow Pushers located nearby. Snow Pushers, the premier Chicago snow plow service provider, is more than happy to remove any and all snow from your property. You can trust that with their work, they won't only ensure that your property's appearance is in accordance with local law. They'll also make sure that it looks the absolute best it can be.
To learn more about what our services encompass as well as a little of Chicago snow plowing laws, continue reading below.
Why You Need Snow Removed And Chicago's Snow Plowing Laws
Snow plowing in Chicago is needed for quite a few reasons. Snow can cause properties to be unsightly and unmanageable in maintenance. However, the biggest reason why snow plowing is needed is due to safety and accident prevention.
When snow falls it can accumulate on your property very quickly. And with quick accumulation, feets-worth of snow can pile up on your grounds. As a result, it can be difficult to traverse through your property's area when too much snow is in the way. Moreover, due to the mass amounts of snow, it can be even more difficult to complete daily errands or chores. There's also the issue of snow accumulation causing your property to be unappealing as well, deterring guests from visiting and giving off a bad impression to passersby.
But you won't have to deal with such issues when you hire Snow Pushers, the best snow plowing Chicago, IL service provider around. Snow Pushers completely understands the struggles that are often associated with snow. And so, when they get to work removing snow from your Chicago property, you can trust that it will look the absolute best it can during the Winter season. More so, you can also trust that your property will become absolutely manageable after we're done.
Chicago Snow Plowing Laws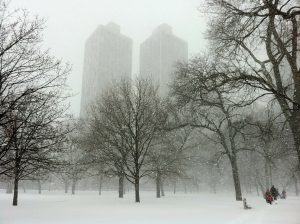 The main reason why you'll want snow removed from your property is due to safety concerns. And also because of Chicago's snow plowing laws.
As a property owner — according to Chicago laws — you are ultimately responsible for the removal of snow that's accumulating on sidewalks adjacent to your property. When sidewalks get full of snow, you are required to create a clear pathway that's roughly 5 ft wide in order to accommodate for those in wheelchairs. Without removing the snow, not only will you obstruct a pathway for those in wheelchairs, but you'll also create a safety hazard for people trying to pass by.
When there's a thin layer of snow on the ground, it can melt a little and refreeze, causing a thin sheet of ice to occur. And when individuals are walking on your sidewalk when there's a thin sheet of ice, it can prove to be fatal as it will likely cause slip and fall accidents.
So in order to prevent such accidents from occurring, feel free to contact Snow Pushers for their snow plow service in Chicago. Snow Pushers is well versed in Chicago snow plowing laws and are more than willing to help you. When they come to visit your property, they will successfully remove all snow that's obstructing your sidewalk's path with their expertise in snow plowing in Chicago.
Benefits of Snow Pushers Chicago Snow Plow Services
We are regarded as one of the best snow plowing companies in Chicago, and this is because our services provide a myriad of benefits. The most prominent of them, however, include:
Prevent Accidents
Safety is one of the most important things you need to keep in mind when dealing with snow. When snow falls, it can create a deadly hazard for pedestrians that are just walking by. When they walk on snow that has melted and refreeze, they can easily fall and sustain an injury. And when it happens on your property, you may likely be liable for their injuries.
Our snow plowing company in Chicago understands the dangers of snow more than anybody else, which is why we're more than devoted to ensuring that your grounds are completely safe and free of snow. Our snow plowing in Chicago will guarantee that no accidents will occur on your property once we're done
Prevent Lost Revenue
With snow in the way, it can be very easy for employees to be tardy or to be absent entirely because they weren't able to make it past the snow on your grounds. And when this happens to you, you can end up losing a substantial amount of income.
As one of the most reputable snow plow companies in Chicago, we know just how frustrating this can be.
Once we are finished providing you our snow plow service in Chicago, your employees will be able to easily come to work with no obstructions at all. If you have special pathways where our Chicago snow plow services need to be optimized the most, we're more than happy to assist you.
Total Convenience
There's no doubt that snow plowing companies in Chicago can provide the ultimate convenience to patrons. With snow plowing in Chicago, pedestrians don't ever have to worry about snow being in the way. Generally, no obstructions will cause individuals' pathways to be blocked as they try to enter your property/venue. Likewise, it'll be much easier for you to walk your grounds without any issues as well.
No Labor Required
Our snow plowing Chicago services will do all the work for you so you won't have to.
Plowing snow can be backbreaking work. Plus, it can also be very time-consuming. So when you feel pressed for time, or you just simply wish not to do all the work, feel free to hire one of the best snow plow companies Chicago has to offer: US!
We're more than happy to provide you our services so that you don't have to break a sweat. We're even willing to provide you our Chicago snow plow side streets services if you need it.
Easy Compliance
Chicago snow removal laws will require you to remove snow from your property when it's required. It can be difficult to comply with these laws when you don't have the time, the proper tools, or even the right amount of labor. But snow plow companies in Chicago are equipped with all such factors so that they can do the work for you. As a result, you'll be able to comply with local snow removal laws with no issues at all.
Contact Snow Pushers Today, One of The Best Snow Plow Companies in Chicago!
Snow Pushers is one of the absolute greatest snow plow companies Chicago can offer to patrons. They've been providing their quality service for many years, guaranteeing customer satisfaction and the complete removal of snow from all properties. Thanks to their efforts, they've helped make countless properties look appealing once more and easier to maintain. But more so, they've also ensured that sidewalks were safe once again for residents to walk on. When you call to hire Snow Pushers, we feel more than confident that you'll benefit from their services immensely as you're added to their growing list of satisfied customers. For any inquiries regarding our services, or when you're ready to hire us, feel free to contact us at 773.299.9203 or visit our contact page.