Snow Pushers Chicago is the premier choice for on-demand and affordable snow removal in the city of Chicago. We aim to keep our costs low so that the residents and business owners of Chicago can employ our services at any time. For over 15 years, our team of snow removal professionals has been working throughout the city, not only removing snow but controlling snow buildup after we've performed the job. Cleaning properties of snow can be a real headache, especially if you're not experienced in the most efficient ways to do so. Snow Pushers Chicago works to ensure the residents of Chicago are safe from the hazards that snow, sleet, and ice can cause.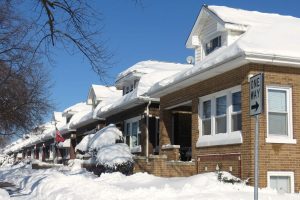 Clearing residential properties of the wet, and heavy snow that covers it throughout the winter can be incredibly inconvenient. Thanks to Snow Pushers, snow removal throughout Chicago no longer has to be as stressful. Turn to our team of snow removal experts as soon as the first flake of snow hits the ground, and we'll be on the scene as soon as the snow has stopped falling. We pride ourselves on our ability to be clear heavy snowfall affordably and quickly. This allows Chicago property owners to get back to their daily life as quickly as possible.
Not only is heavy snow build-up dangerous and unsightly, but it can lead to fines. According to the Municipal Code of Chicago (4-4-310 & 10-8-180), clearing snow is the responsibility of residents of a building. This is even more true if the snow build-up is on the sidewalk or another public walkway. Avoid any fines or legal action that may result from neglecting to remove snow from properties by hiring a snow removal company to handle the job. Want to request a quote for residential snow removal in Chicago? Give us a call at (773) 299-9203 or contact us online to request a quote. Prices start at only $99.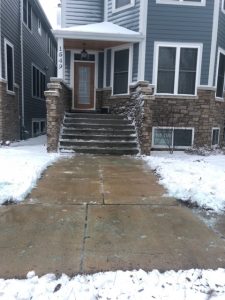 Business owners in Chicago know that heavy snowfall often results in headaches and loss of business. Snow buildup can make it impossible to get into your store, office, or warehouse. Business owners have more important things to worry about than snow removal, though. They have to focus on the on-goings of their business. That's what makes snow removal services from Snow Pushers Chicago so beneficial. Gone are the days of taking time away from your day, or employee time to shovel snow from sidewalks and walkways. If you know that heavy snowfall is on the horizon, just give us a call. If it's the week, day, or night before – it doesn't matter. We'll be on your property quickly to provide our top-notch snow removal services.
Snow removal is that much more important if your business operates through a storefront. Nobody is going to trek through 2 feet of snow to get to the front door of your business. They're much more likely to find another service or product provider instead. Ensure that your business is always inviting and easily accessible with our snow removal services in Chicago.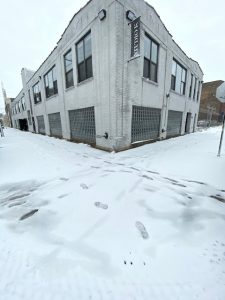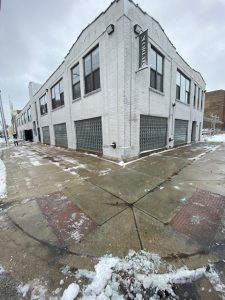 Benefits of Snow Pushers' Snow Removal Chicago Services
We are regarded as one of the best snow removal companies in Chicago, and this is because our services provide plenty of benefits. The most prominent of them, however, include:
Prevent Accidents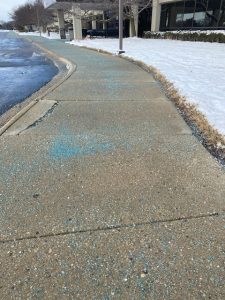 Whenever you're dealing with snow, safety is one of the absolute most important things you need to keep in mind. As snow falls, it can pose a deadly hazard for pedestrians that are just walking by. If they walk on snow that has melted and refreeze, they can easily fall and sustain an injury. And when it happens on your own property, you can possibly be liable for their injuries.
As one of the best Chicago snow removal companies, we understand just how dangerous snow can be more than anybody else. Which is why we're more than devoted to making sure your grounds are completely safe and free of snow. Our snow removal Chicago suburbs services will ensure that no accidents will take place on your property once we're done.
Prevent Lost Revenue
It can be very easy for employees to be tardy or to be absent due to snow obstructing their commute or their entry into your property. And when this happens to you, you can end up losing a significant amount of income.
As one of the absolute greatest snow removal companies in Chicago, we understand just how frustrating this can be.
After we are finished providing you with our snow removal Chicago services, your employees will be able to easily come to work with nothing blocking their paths at all. If you have certain special pathways where our snow removal Chicago services need to be optimized the most, we're more than happy to assist you.
Total Convenience
There's certainly no doubt that Chicago snow removal companies are able to provide the ultimate convenience to patrons. With snow removal Chicago suburbs services, pedestrians won't ever have to fret over snow being in the way. Ultimately, no obstructions will cause individuals' pathways to be blocked as they try to enter your property/venue. Also, it'll be much more convenient for you to walk your grounds without any issues as well.
No Labor Required
Our snow removal Chicago services will perform all the work for you so you won't have to.
Removing snow can prove to be backbreaking work. More so, it can also be very time-consuming. So whenever you feel pressed for time, or you just simply wish to not do any work, feel free to hire one of the greatest snow removal companies in Chicago: US!
We're more than happy to provide you our services so that you don't have to break a sweat. We're even willing to provide you our snow removal Chicago side streets services if you need it.
Easy Compliance
Snow removal laws in Chicago will require you to remove snow from your property when it's needed. However, it can be often difficult to comply with these laws when you don't have the time, the proper tools, or even the right amount of labor. But snow removal companies in Chicago, like Snow Pushers, are equipped with all such factors so that they can do the work for you. As a result, you'll be able to comply with local snow removal laws with no issues at all.
Snow Pushers Chicago Has Been Chicago's Snow Removal Provider Of Choice For Over 15 Years
For over 15 years, Snow Pushers Chicago has been assisting the residents of the city to remove pesky snow build-up from their homes and businesses. Want to learn more about our Chicago Snow Removal services, or request a quote? Give us a call at (773) 299-9203 or contact us online. Prices start at only $99.